Complete remote sensing service:
Kabelik Consulting services delivers industry-leading advisory services from aerial service providers to end-users. Our approach is simple yet effective: diagnose client needs or problems, identify options, develop detail solutions and support the organizational change needed to drive success.
Spread across the world, our clients represent a wide variety of industries and shareholders with diverse needs and challenges. We help them achieve better resource management and improved ROI by focusing on best practices in these areas:
Policy, organization and business
Operation performance and optimization
Technology and integration
Analytics and decision support
Bottomline, Kabelik can help you succeed in any of the links in the geospatial operational chain:
Integration
Flight Operation
Flight Planning
Calibration of the equipment
Data Processing
Data transformation
Quality Management
Documentation
Data Analysis
Data Management
Data Backup
---
Acquisition Services:
With over a decade of tender proposal writing experience, Kabelik can provide a complete proposal team to manage proposal development from tender review to proposal delivery, or we can provide individual experts to augment your proposal team. We can help you provide the resources you need to position your company effectively and respond to multiple and concurrent tender proposals. We handle technical, management, and past performance volumes as well as lead and participate proposal reviews.
---
Consulting Services:
Kabelik Gmbh has several years experience in the following Airborne Remote Sensing applications:
---
Lidar is a surveying method that measures distance to a target by illuminating the target with laser light and measuring the reflected light with a sensor. Differences in laser return times and wavelengths can then be used to make digital 3-D representations of the target. The name lidar, now used as an acronym of light detection and ranging (sometimes light imaging, detection, and ranging), was originally a portmanteau of light and radar. Lidar sometimes is called 3D laser scanning, a special combination of a 3D scanning and laser scanning. It has terrestrial, airborne, and mobile applications.
---
Bathymetric Lidar is an airborne acquisition technology. As opposed to airborne topographic Lidar, which uses an infrared wavelength of 1,064nm, bathymetric Lidar systems use a green wavelength of 532nm to penetrate the water column for measuring the seafloor.
---
An orthophoto, orthophotograph or orthoimage is an aerial photograph or satellite imagery geometrically corrected ("orthorectified") such that the scale is uniform: the photo or image follows a given map projection. Unlike an uncorrected aerial photograph, an orthophoto can be used to measure true distances, because it is an accurate representation of the Earth's surface, having been adjusted for topographic relief, lens distortion, and camera tilt.
---
Hyperspectral imaging, like other spectral imaging, collects and processes information from across the electromagnetic spectrum. The goal of hyperspectral imaging is to obtain the spectrum for each pixel in the image of a scene, with the purpose of finding objects, identifying materials, or detecting processes.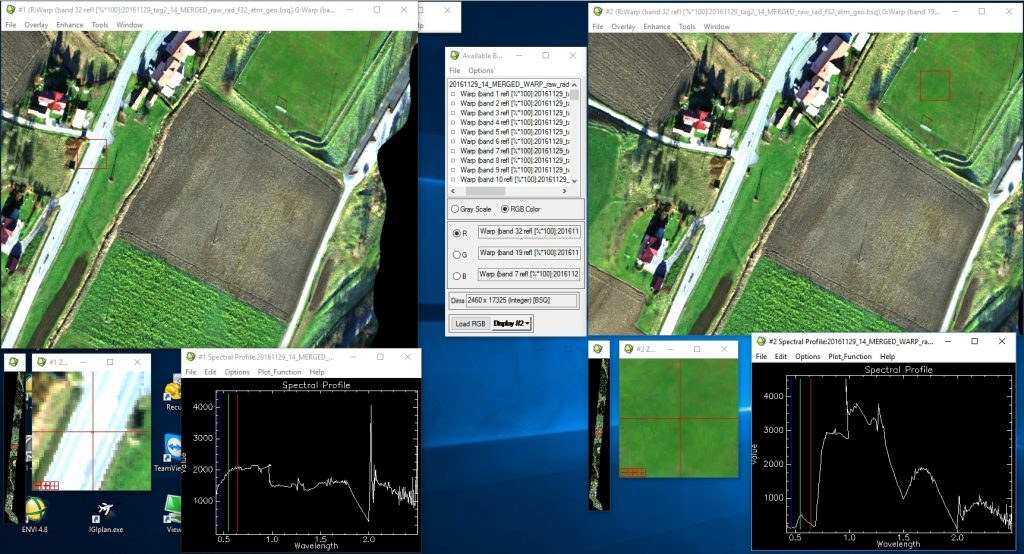 ---
Infrared thermography (IRT), thermal imaging, and thermal video are examples of infrared imaging science. Thermographic cameras usually detect radiation in the long-infrared range of the electromagnetic spectrum (roughly 9,000–14,000 nanometers or 9–14 µm) and produce images of that radiation, called thermograms. Since infrared radiation is emitted by all objects with a temperature above absolute zero according to the black body radiation law, thermography makes it possible to see one's environment with or without visible illumination.
---
The company can provide consulting services for the whole supply chain:
Integration
Flight Operation
Flight Planning
Calibration of the equipment
Data Processing
Data transformation
Quality Management
Documentation
Data Analysis
Data Management
Data Backup
---
Documentation & Optimisation:
We can help you with the documentation and optimization of your current workflows. We can also help with finding the right wording for the final report at data delivery.
---
Quality Management:
Quality management ensures that an organization, product or service is consistent. Quality management is focused not only on product and service quality, but also on the means to achieve it.
Therefore we can offer you quality management though the whole supply chain:

---
Training:
IGI
Riegl
Terrasolid
HySpex
ReSe
Novatel